Tool manufacturer Robotiq sees a growing demand for palletizing solutions, so last week it launched the Powerpick and Multipick software feature. Both designed to expand palletizing capabilities in terms of both payload and cycle time.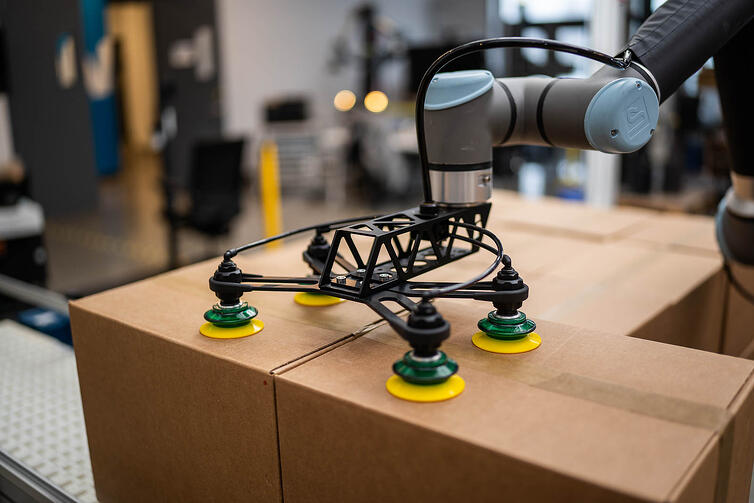 PowerPick: The powerful gripper for robust palletizing tasks
The PowerPick is a new vacuum gripper designed specifically for palletizing. Thus, it can pick up many different boxes in a variety of sizes, weights and materials. In addition, it is resistant to external influences such as moisture and fine dust.

Features of the PowerPick are:
Load capacity: PowerPick has a load capacity of up to 11.5 kg (25 lbs).
Adaptability: PowerPick offers 46 different handling options and can pick up different boxes/boxes. This eliminates the need for frequent tool changes.
Gripping modes: single, double or even quadruple gripper. Mounting multiple PowerPick units on the same arm increases throughput for small and light boxes.
Installation: Installation is easy and only an Allen wrench is required for component assembly.
Multipick: more flexibility in order picking
Multipick is a software feature that improves the speed and flexibility of your palletizing process. It increases throughput at the end of the production line, regardless of the pattern used. Multipick allows you to place both one product and two different products on one pallet.

Advantages of Multipick are:
Performance enhancement: by picking multiple boxes simultaneously, Multipick increases throughput of palletizing operations.
Flexibility: it allows picking a wider range of palletization patterns with greater flexibility.
Support for label orientation: Multipick supports label orientation, which is not always possible with alternative solutions.
Multipick includes powerful features to speed up your production lines and prepare you for future needs. For example, by using a PowerPick and Quadruple Gripper, you can deploy up to 4 grippers each with 2 small boxes of equal capacity. This means you can pick 8 boxes at once!