To automate internal logistics processes, Automated Guided Vehicles (AGV) and Autonomous Mobile Robots (AMR) are on the market. These devices move materials or goods from A to B within a warehouse or production hall. You can think of pallets and containers, but also of bins and boxes. In principle, AGVs and AMRs are the same, but they differ in a number of ways.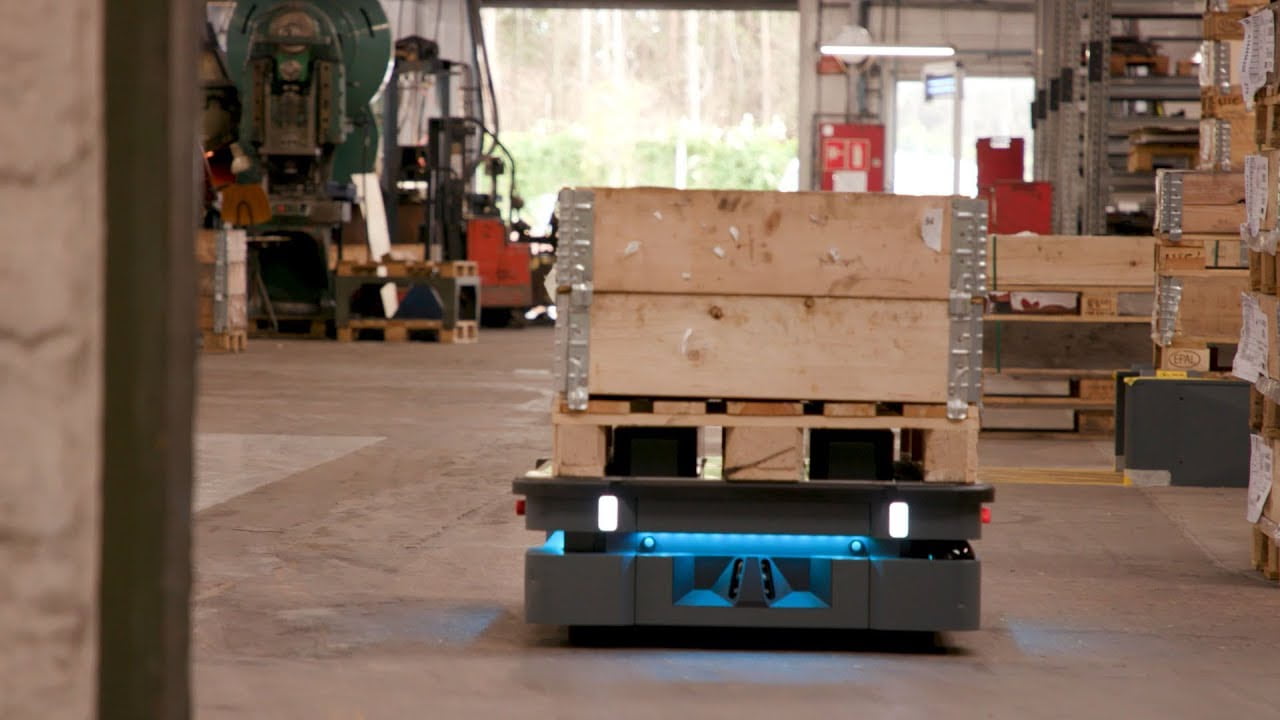 What is an Automated Guided Vehicle?
An AGV is a vehicle that moves through the warehouse or factory according to a fixed route. They are guided by lines, wires or floor structure, which they can detect thanks to radio waves, line of sight cameras, magnets or lasers. This means that if the AGV's route is interrupted by a person or object, the robot will stop and continue its path only when the road is clear again.
What is an Autonomous Mobile Robot?
An AMR does adapt to its environment. With cameras and sensors, this mobile robot scans its surroundings and can thus determine the most efficient route between point A and B. If the robot encounters obstacles along the way, it finds its own way around them. An AMR can thus adapt to its environment, making it more flexible to deal with changes on the shop floor.
The benefits of logistical automation
Reduces operating costs

Thanks to logistical automation, personnel costs are reduced.

Increased productivity

Employees can do important work elsewhere, which increases production.

Optimization of goods flow

Logistics automation can help you create a consistent workflow with efficient driving in the warehouse.

Lower margin of error

Automated vehicles are equipped with highly accurate navigation and detection systems, avoiding damage to goods, infrastructure and trucks.

Safety

Unsafe behavior by employees remains the biggest cause of accidents in the workplace. Unlike a forklift driver, an AGV/AMR always adheres to prescribed safety procedures.
Different brands of AGVs and AMRs
WiredWorkers works with several brands to implement logistics automation.
KUMATECH's solutions are characterized by simplicity, robustness and autonomy. For example, the control of the systems is easy to set up with push buttons on the side and touch screens. The large idustrial wheels and steel frames make the products very suitable for the manufacturing and logistics industries. Thanks to an automatic charging system, the AGVs are charged automatically as soon as they have a flat battery. The built-in floor scanner, which recognizes the floor structure of the factory hall, allows the KUMATECH to find its way everywhere, without having to make any structural changes to the building.
MiR robots are safe, cost-efficient and can find their own way around your shop floor. By means of built-in sensors, the robot scans its environment. It can deal with changes and unexpected situations such as your employees changing position, but also recognize holes, walls, glass doors or windows and stairs. In addition to the above, the robots are able to make a 360 degree scan, allowing them to safely drive backwards.
During the realization of a project, we take the following steps.
Introduction
During our introduction we discuss the options. What needs to be automated? What should it produce? Where are the bottlenecks?
Concept design
After the introduction, we'll get to work on a concept. Together, we draw up a detailed set of requirements, define the scope of the project and the deliverables. Once we agree on these, our engineers get to work creating a concrete design.
Development
Once the concept is approved, we get to work developing the software and implementing the system.
Testing
After implementation, we test the system extensively. Here we check if the system is working properly and if the integration with other systems and networks is running smoothly.
Training
After testing, we provide training to the operators so that they can handle the new system well.
Service and maintenance
If the system is working properly, we are happy to remain your permanent partner to ensure that the system continues to work properly.
Find out how we can improve your production
Book a free online consultation with our automation specialist!
Completely free and without obligation!