Previous situation: manual assembly
The light engine is an LED luminaire that is mounted in ceilings in office buildings, for example. The product consists of five components that are assembled into a light engine, namely a housing, LED board, mixing cups, diffusers and a main reflector. In the old situation, this process was done manually by Signify employees.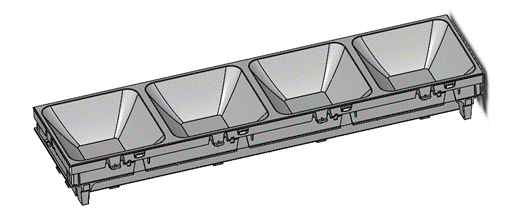 New situation: completely automated assembly
In the new situation, the Light Engines are assembled with a Techman Robot cobot system. This machine does 130 pieces in 1 hour. The cobot is fed from various buffers that maintain a stock of at least 1 hour of autonomous operation. These buffers are refilled with components by an operator 1 time per hour. When the cobot has assembled the various components into a complete end product, this product is transported to a storage location. The system includes a fully vacuum integrated product specific designed gripper, that was printed using the dddrop industrial 3d printers. Take a look at the video below.
Yield: higher production capacity
The use of a collaborative robot on the assembly line of the light engine has produced good results. The productivity of the assembly line has increased. The workers who used to assemble the light housings manually can now spend their time on other tasks, such as quality control. All they have to do is make sure that the cobot receives the parts once an hour.
Find out how we can improve your production
Book a free online consultation with our automation specialist!
Completely free and without obligation!