Cobots are gaining ground within the robotics industry. Thanks to various techniques such as artificial intelligence (AI), machine vision and advanced gripping technology, they are becoming increasingly safe to work with and can perform more and more different tasks. This is (partly) due to the production flexibility of a cobot. A cobot adapts quickly and can be used immediately thanks to simple programming techniques. A quite new development in the cobot field makes the cobot even more flexible; the automatic tool changer.
Multiple applications with one cobot
An automatic tool changer allows a collaborative robot to change tools completely autonomously. This means that a cobot on a production line can operate multiple tools and thus perform multiple and more complex tasks. For example, consider a cobot on an assembly line that switches between a gripper and a screwdriver by itself. With this, a cobot could first place various parts in the right place, and then use the screwdriver to screw these parts together.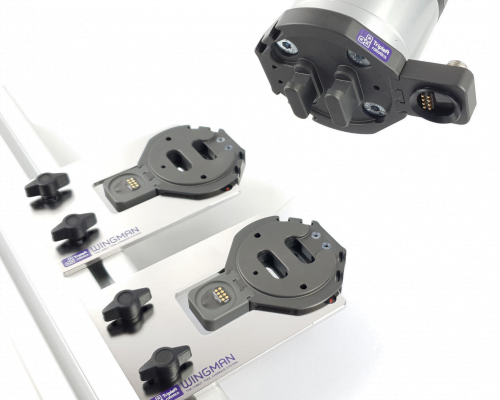 A great example of such a system is the WINGMAN Tool Changer. This is one of the first to be designed specifically for cobots and various cobot tools. In developing this tool, the manufacturer (Triple-A Robotics) set itself the goal of building a flexible, compact and strong tool that also fit within the safety requirements of collaborative robots. Ultimately, this resulted in a plug-and-play system that is operational within minutes and can quickly change tools both manually and automatically. Watch the video below to see how the WINGMAN Tool Changer works.
Don't miss anything about cobots and automation
Subscribe to our monthly newsletter!
More than 500 companies preceded you!
You can unsubscribe at any time.
The WINGMAN is suitable for almost all cobot brands, including Universal Robots, Techman Robots and Franka Emika Panda. The so-called pass-through modules work electrically, pneumatically or built-in pneumatically. In addition, the WINGMANG brings a number of other advantages. Unlike other tool changing systems, it does not require expensive compressed air systems to activate the torque and release mechanism. The mechanism operates automatically as the cobot moves in and out of the tool holder. Thus, the cobot changes tools completely autonomously, without hoses, air valves and associated I/O setup.
Automatic and manual tool change in one device
Plug and Play in minutes
Patented Fail-Safe locking mechanism
Super-compact and super-strong (load capacity 33 kg and only 30 mm high)
Designed and tested for cobot safety
All parts of the tool changer are made of high quality aluminum.
Compact holder that holds the robot tools when they are not placed on the robot.
Find out how we can improve your production
Book a free online consultation with our automation specialist!
Completely free and without obligation!
WiredWorkers specializes in automation and can help you make the right choices. We strive to create a world where the qualities of workers are fully utilized, so we are happy to help make implementing robotic applications as successful as possible. Would you like more information? Are you curious about how a robot can be used as effectively as possible in your company? Then contact us or register for a free cobot consultation.